WORKING TOGETHER
We promote individual change makers and businesses on their journey for good. Just imagine what we can achieve together!
INSPIRING CHANGE
Our products are designed to inspire healthy habits, and to be loved and used by those making positive change in society.
SAVING THE PLANET
Design and sustainability is our way of helping the environment. Join us in our efforts to make an impact on the planet we love.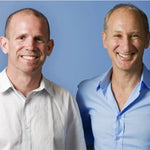 Eric Barnes & Paul Shustak - Co-Founders of KOR
IT STARTS WITH AN IDEA
"There were a lot of functional bottles but none were appealing… there was no style or design, it was still very much a sort of sporting goods outdoor category."
"the tides of sustainability would open a future where more people would carry around a reusable bottle."
Back in 2004, Eric our co-founder, like most people at the time was reusing a plastic bottle to drink his water. After his wife called him out on it, "That bottle is a bacteria trap and you're going to get sick. You really need to get a reusable bottle that you can wash." Eric looked to find another way. "There were a lot of functional bottles but none were appealing… there was no style or design, it was still very much a sort of sporting goods outdoor category."

And that's how KOR was born, together with his friend and fellow co-founder, Paul.
Convinced that there had to be other people like them who would pay more and help the environment if there were better alternatives available, we were the first to design and focus on improving the hydration experience... pioneering the message of sustainability to reduce single use plastic.
Our message has been heard.
ergonomics
feels so good once it
hits your lips
"We're obsessed with great design in both form and function..." A unique feature of our product is the Perfect Spout™ which offers an unmatched mouth feel and a Halo Trim™ to frame the contents. Every bottle designed to enhance the hydration experience.
PAVING A NEW PATH
PIONEERING THE
REUSABLE BOTTLE
We were one of the first on the market with a "design-driven reusable water bottle." We have found the cleanest and best materials for our product which has continued to influence the industry.
Made from Eastman Tritan™
SPOTLIGHT
THANKS FOR THE LOVE
Our story cannot be told without mentioning all the amazing spotlights we've had on our journey. From our design partners, the raving customer reviews and global press, we feel the love. Our bottles have been featured on screen from The Hunger Games to Dancing With The Stars, and Tony Stark (aka "Iron Man") decided he needed a KOR ONE too. That's the ultimate compliment.

style
sexiest water container since the bed
Our products are designed to beautify water and look amazing in your hand, on your desk, or in your home. With distinct Halo Trim™ design and drinking experience benefitt of our Perfect Spout™. Our water bottles turn heads, but don't take our word for it...

JOIN US
WE ARE PUTTING YOU
IN THE SPOTLIGHT
Are you affecting change? Does your business have green intitiatives? Let's work together to amplify your story and spread the word about the impact you are making to inspire others. Let's go!
sustainability
from THE EARTH
TO THE EARTH
We are always looking for ways to play our part to make the world a better place. That's why we've committed to giving 1% of our total revenue to sustainability initiatives through 1% for the Planet.